FYD-QF204 UV Portable Sterilization UV Sterilizer Lamp Wand
【Enemy of Harmful Substance】
UV-C has been used for killing germs, bacteria and virus in the last decade by effectively destroying their DNA & RNA. It is widely used in medical environment with its high disinfection rate.
According to the approved laboratory research, the ultraviolet disinfection stick can kill 99.99% of harmful substance.
【10s Fast Sterilization】Turn on the UV light, simply sweep the UV light wand across the surface or stuff you desire to clean, it makes the environment safe and clean in 10 seconds without damaging any surface, makes non-toxic, no residue, no odor, no secondary pollution.
[ Noted: Avoid direct exposure to the human body, pets or plant for long term]
【Portable & Easy to Use】Can be carried with you to any place as you go.
【Safety】Automatically shut off while it detects a over turned to make sure it would not hurt anyone by mistake.
【Environment Friendly】 Wide irradiation range, high efficiency, no odor , no pollution, kill 99.9% germs, virus, bacteria, NO other chemical needed.
【Note & Warning】:Don't expose eyes or skins directly to UV-C light. Keep this device out of reach of children all the times.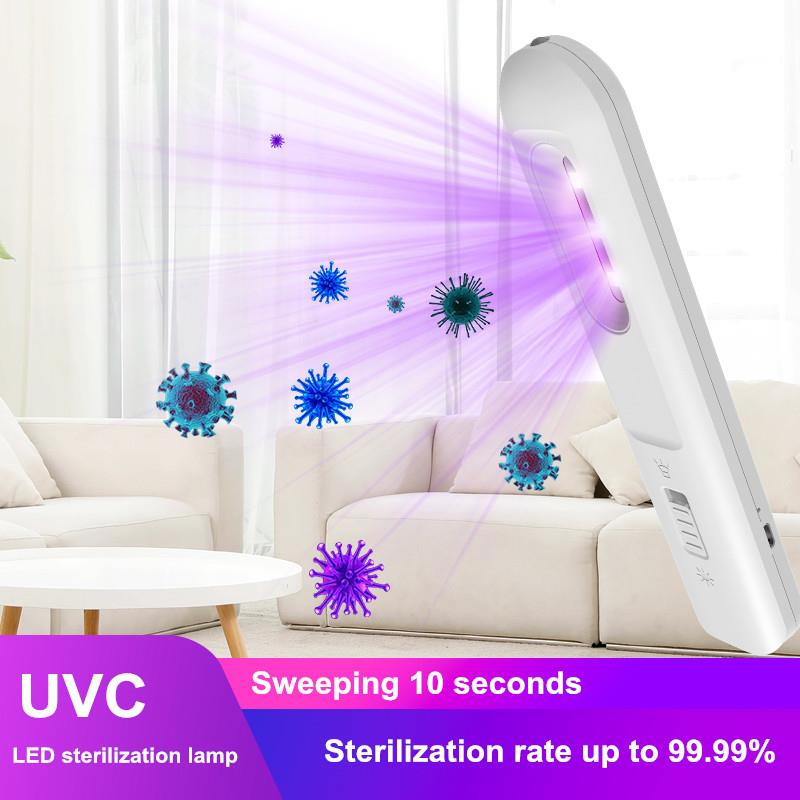 FAQ:
1. How long does it take to sterilize?
For best result, it is recommended to scan back and forth on the surface for 5 to 10 times with a distance of approximately 1 inch.
2. When disinfecting, what should be the distance between the lamp and the object?
The recommended distance is 3-5cm.
3. Is the 99.99% sterilization rate true?
According to the approved laboratory research, UV rays can indeed kill most bacteria.
4. What is the UV wavelength ?
It's around 270nm-285nm.
5. Can it be used on airplanes?
Don't use it when people or pets nearby.
6. Is it safe to carry on?
Sure,compact design for easily carried with you.
7.what is the warranty on this product?
We provide one year warranty on it.
7. What type of charger this come with?
It comes with a Micro USB charging cable.
8. How long the light would be lasting working?
In the lab test, it can be used working over 10000 hours.
9. The description of this sterilizer wand mentions it has 8 leds both uv-a and uv-c leds. specifically, how many of each type uv-a and uv-c leds?
They are together in one LED clip. So each LED clips has them!
It has two wavelengths. One is the UVC, wavelength between 260nm-280nm, the other one is the UVA, wavelength between 315nm-400nm. Mainly is using the UVC to clean what you want. Because UVC's light cannot be watched or seen by our eyes, so the factory adds some UVA light inside to let us see the purple color of the light wave range.