FYD-835E WiFi Android 4G NFC Order Call Ad Display System Table Advertising Player
Well-Liked and Multi-Function Tabletop Advertising Player
Brilliant Way to Offer Mobile Charging at Each Table & Improve Your Business!
How to Benefit from Table Advertising Player with Menu Power Bank?
With the Continuous Looping Graphics and Video, you can advertise your Services, Specials, Promotions and Upsells easily to a captive audience, while they charge.
Studies have shown that while you are providing a FREE Service like 'CHARGING Phones', the psychologically association of your brand will leave a positive and lasting impression.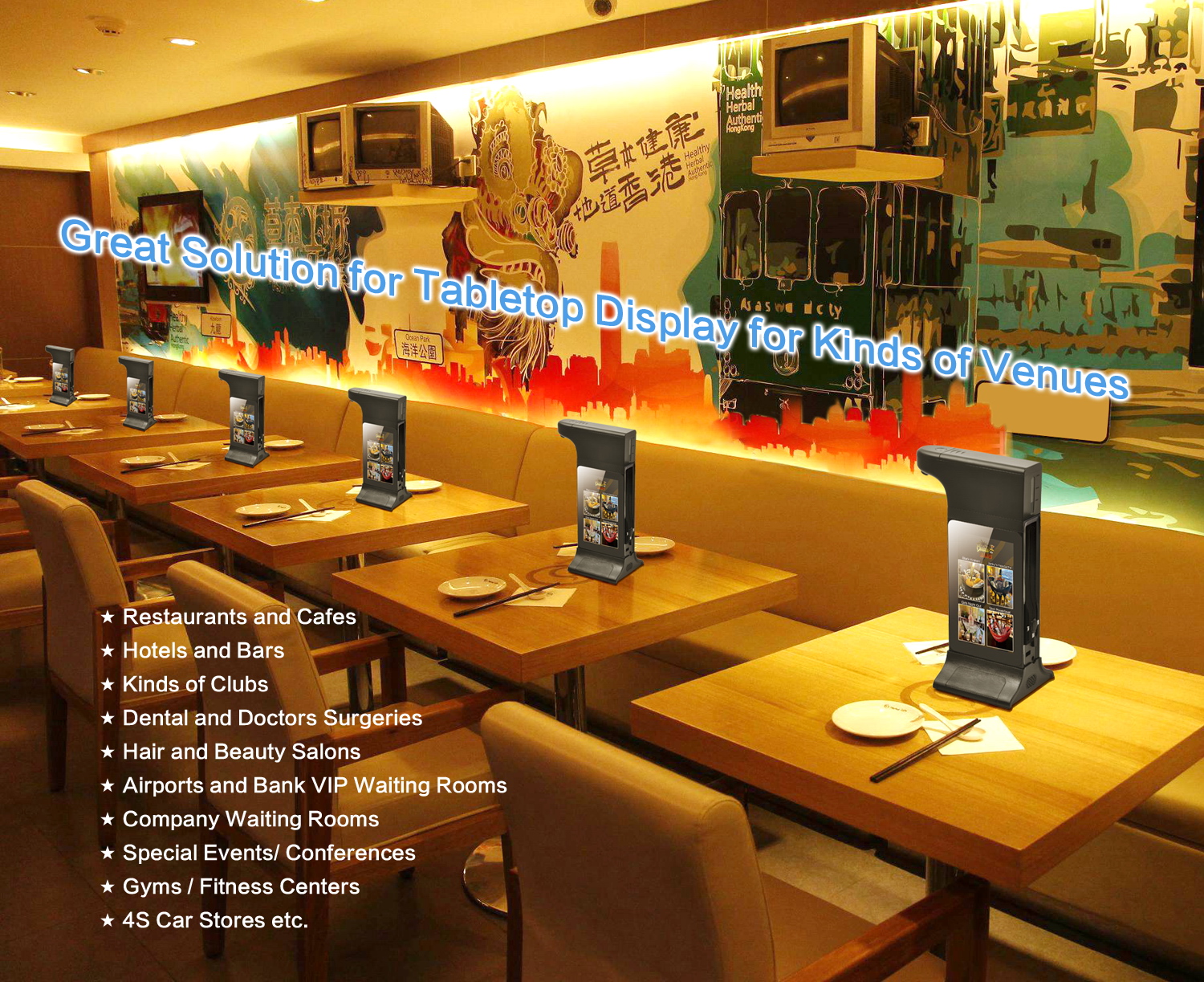 Great Solutions for Table Advertising & Phone Charging.
Display Advertising on Lot of Tables is a newest and innovative way
that is the nearest and longest stay and can have interaction with consumers.
Our Android WiFi models comes with our brand-new powerful easy to use cloud-based
digital signage software include Ad Display System, Order System, Call System etc together.
Key Feature: Patent Design, Original Factory, Stylish Appearance
Basic Content Management System FREE- No Monthly Fee




Full Control of Images – Change Ads as Often as You Like
OWIFI – Digital Advertiser Phone Charger with Dual 7″ HD LCD Plus WIFI Content Control
Use all day, Recharge each night, Never be without power!
Use all day, Recharge each night, Never be without power!
DUAL 7" HD 1080p LCD screen Wide angle (Screen Resolution 600 x 1024 Pixels)
20800mAh High Capacity Lithium Batteries – Charge Capability – 10+ Phones*
Continuously Loop Images & Video
Graphic Support: Image slideshow, Video play (Multiple Formats)
BASIC Cloud Based Wifi Content Control (Remotely upload images and videos online and update through WIFI)
Two Built-in Cables + 2 USB Ports – Charge Multiple Devices Simultaneously
Size: 130mm*114*246mm
Built in NAND Flash 8G
Will charge 10+ Phones/Day while running Dual digital screens for up to 5-6 hours
Fast recharge – Only 6-7 hours